RUTH WILSON IN NEW YORK
LAMDA was in New York this week catching up with alumni and visiting with the American Friends of LAMDA (AFLAMDA).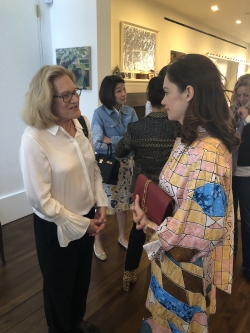 Pat Beard Braga from the AFLAMDA Advisory Board hosted a luncheon in honour of Ruth Wilson, LAMDA alumna, currently starring in King Lear on Broadway. 24 influential New York women attended the lunch held in an upper East side home. Ruth told stories of her time at LAMDA 13 years ago and how her training continues to influence her work including the wonderful creativity and physicality with which she has engendered her 'Fool'.
Brian Nocella, our Alumni and Events Manager, was a LAMDA student in the years Ruth was at LAMDA and they were delighted to be reunited when he was meeting and greeting guests. Ruth inspired the women to become involved with AFLAMDA variously as Patrons, Scholarship donors and with industry contacts.
The American Friends of LAMDA (AFLAMDA), supports the training of American students at LAMDA, where we have one in five of our students from the United States.  
If you would like to similar events in the US please join as a Patron 
Photos: Left: Host of the luncheon honouring Ruth Wilson is Pat Beard Braga an AFLAMDA Advisory Board member pictured with Ruth and other guests. Top: AFLAMDA Advisory Board member Jane Scovell (left) with Ruth Wilson and LAMDA Development Director Lyndel Harrison.