40 year reunion for class of 1978
This year, we held a reunion party for our Class of 1978, to celebrate 40 years since they walked through the doors at LAMDA. We talked to Michael Mueller to find out what spurred him on to organise the event...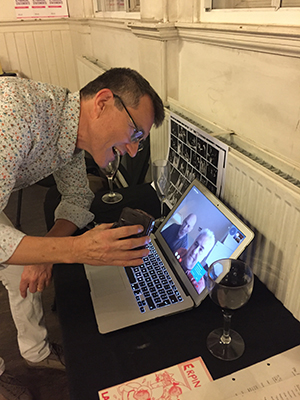 "I realised last January that with the advent of 2018 it would soon be 40 years since the year of 1978 first started at LAMDA. It seemed quite a milestone and feeling both nostalgic and curious, I was taken with the notion that it would be really lovely to see everybody again. I wasn't sure if anyone else would be interested but as I contacted the people that I had kept in touch with over the years and gradually tracked down colleagues I hadn't seen in four decades the reaction was always the same - "What a great idea. Count me in!".
I called LAMDA to see if they had any contact details for the classmates that were proving hard to find. They were incredibly helpful and offered to host the event, complete with catering. It was like being welcomed back into a family.
Our American friends were keen to be involved too. Scott Barton and Zeljko Ivanek flew over from New York to join myself, Sarah Mortimer, Julia St John, Gary Freer, Joanna Myers (now Whitfield), Brian Hickey, Jane Howard (now Lyons), Sally Cooper Dyson (now Robinson), John Skitt, Greg Cruttwell and Trevor David (now Blount)
Two of our cohort from the US, Bert Pigg and Stephen Gruwell, couldn't make it but came up with the bright idea of joining us via Skype. Bert drove 180 miles to be with Steve who has a base in Austin, Texas and the two of them spoke to everyone who had gathered in the Weston Hall at LAMDA. While they were online Andrea Wray (now Asbury), who lives in the UK but also couldn't attend, joined us over FaceTime - meaning Bert and Steve in Texas, Andrea in Yorkshire and all of us gathered in London were able to reconnect! A lot has changed in 40 years. When we were students at LAMDA the only way we could contact the outside world was by using a payphone!
LAMDA has such an amazing building; the facilities are pretty awe inspiring when we compare them to our days at tower house. But even more important LAMDA clearly has some wonderful people and in the end that is what's most important."